Section A

General Information
A1
List all acquisitions and mergers that your agency has undergone in the past five years.
Chess Club Agency Ltd. acquired the assets of MGM Communications (2002) on October 1, 2021.
A2
Where is your primary office located? Do you have other offices in Canada? If so, where are they located?
433 20th Street West W, Saskatoon, SK, S7M 0X3
A3
Who are the senior executives of your agency? Please provide a brief description of their careers, describe what they do in the agency and the role they would play on the WCLC account.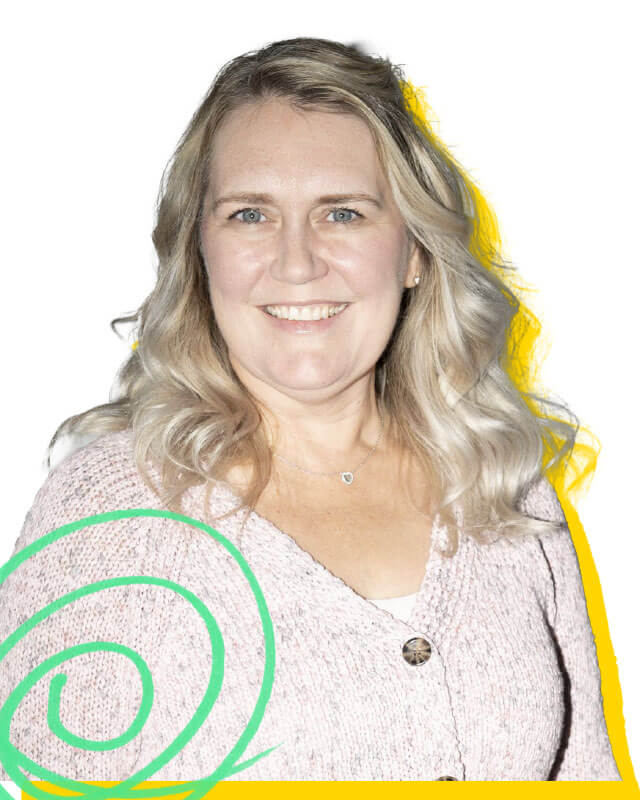 Imagine someone altruistic, sharp, and bursting with kindness. Now picture them at the head of the Chess Club table, looking elegantly business casual. This is our CEO, Sherri Behiel. For 18 years, Sherri's managed the financial health of our agency and has spent 23 years in a senior management role. She ensures smooth sailing for us and our clients, utilising her boatload of experience to monitor capacity, improve project management processes, and keep our colourful crew in line. Her heavenly demeanour is not limited to our agency, as she is also an angel investor in small businesses in our province, and since 2022 has invested in 11 different startups through the TNT investor syndicate. With a Bachelor of Commerce, and a postgraduate CMA, CPA designation under her belt, Sherri also heads up HR, and will work to keep spirits high and turnover low to provide WCLC with consistent and enthusiastic service.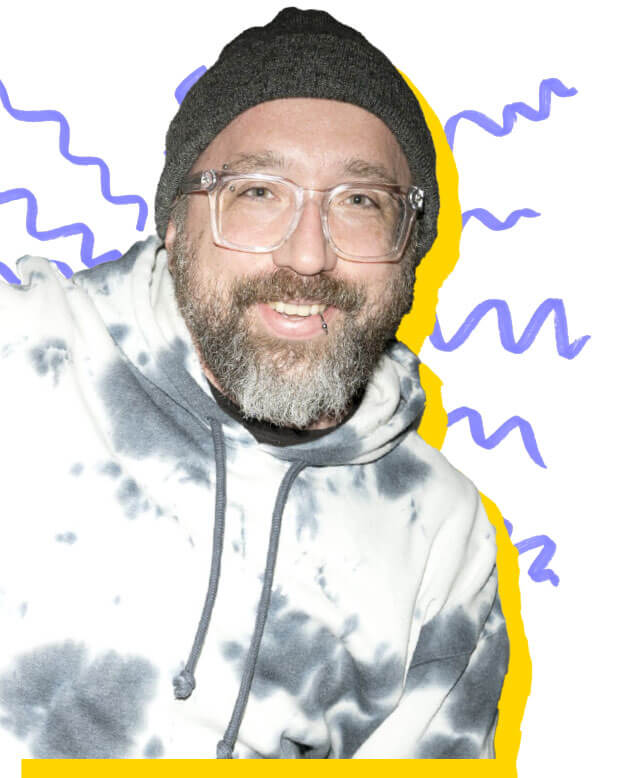 Carl has been in the industry for 23 years, filling roles such as art director, creative director, photographer, and film and commercial producer/director. For over four years, Carl has led our creative team with endless imagination and resourcefulness, elevating every campaign with his ability to articulate strong visual concepts and consistent brand messaging. He's passionate about creating positive change and is a born storyteller who'll make you cry, lol, and think more deeply. Carl understands what goes into executing and managing projects successfully — no matter the budget or campaign size. He will guide the creative and brand strategy and development for every WCLC project.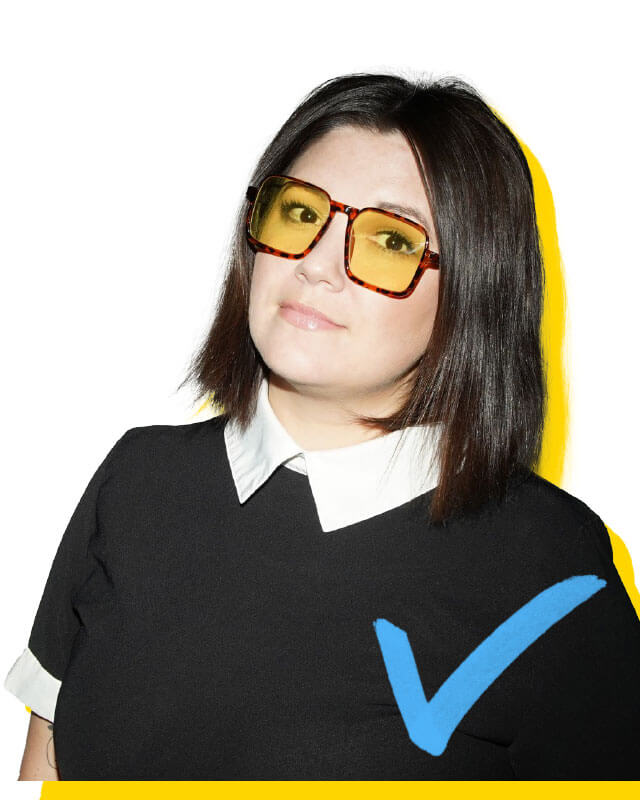 Larry injects order, understanding, and exuberance into everything she does. With six years of exceptional project management at Chess Club, ten in people management, and Digital Marketing and Business Administration certificates under her belt, Larry leads with confidence and ongoing innovation. Gifted with a creative mind, killer public speaking skills, and quick thinking that would make your jaw drop, she is talented in all aspects of account management while developing and keeping meaningful relationships with clients, Chess Clubbers, and community members. Larry oversees every account, is the account director for our largest government clients, and manages the accounts department. Larry will oversee the management of your account to ensure timelines and expectations are met, and when WCLC joins the club, Larry will be very involved with your account to ensure a seamless and successful onboarding process. Over time, her involvement will ebb and flow based on your needs.
A4
Provide a five-year chronological history of Account Director/Creative Director/Strategy Lead/Art Director/Copywriters.

Account Manager: Dani Anderson
Dani was the VP of the Hill Marketing Association at the University of Regina, and since completing her Bachelor's in Business Administration in Marketing with a minor in Psychology, has worked with many businesses across the country in various industries. Now, as a part of the Chess Club team, she continues to grow relationships and strives to help businesses reach their marketing goals.
Strategy Lead:
Contracted out.
Art Director: Lesia Karalash
Armed with a degree in fine arts with a minor in English, before joining Chess Club, Lesia worked as a marketing and communications specialist with the YWCA from 2021-2023. She has honed her skills in graphic design, in which she worked as a freelancer for years prior, and now works on campaigns doing content strategy, design, and art direction.
Copywriter: Kim Dionne
After first finishing her degree in English, Kim got her degree in Education and worked as a public school teacher for three years. During this time, she also wrote professionally for the pop culture website WatchMojo, and joined the Chess Club team in April of 2023. She now works on campaigns doing concepting in addition to writing copy, as well as content strategy and proofreading.
A5
Provide an organizational chart for your Agency including all staff.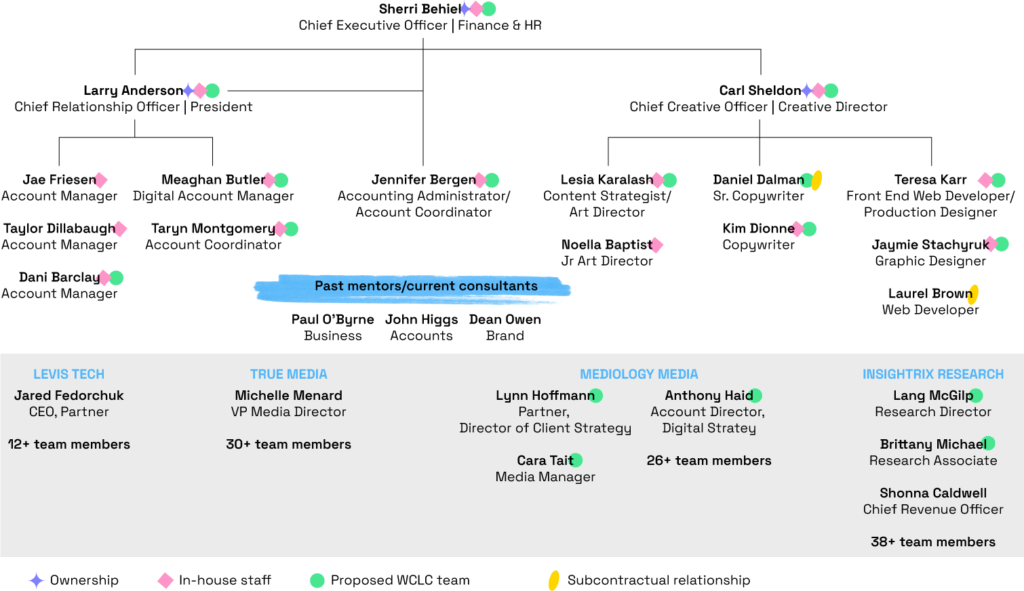 A6
Does your team have experience working with external media agencies? What processes do you have in place for this type of working relationship?
To contribute to an economic ecosystem with fewer gatekeepers and more collaboration, we've established partnerships with like-minded agencies that specialize in niche areas like media planning/buying and external research. Our partners provide powerhouse teams with years of experience, and together we have contributed to ongoing innovation that drives success. Because, at the end of the day, that's why we're here: to secure the best outcomes for our clients. 
We typically partner with Mediology to provide best-in-class media services. Mediology is a leader in media strategy and management with a deep roster of specialized talent. They analyze audiences for the purpose of providing comprehensive media strategies that drive ROI for clients, and always strive to ensure clients understand why tactics are chosen and what results they can expect. Their team of digital specialists are focused on staying on top of new trends across all digital media channels, from social media to programmatic display and video. In addition to their Regina home base, Mediology has footprints in Victoria, Vancouver, Calgary, and Edmonton. Their staff—25 media professionals across the Mediology network—offers great bench strength, scalability, and rapid responsiveness.
While Mediology is the partner we recommend to clients we work with, we also understand that WCLC already has relationships in place with media providers, and we are happy to work alongside your existing partners if that is your preference.
We are fully set up to tackle video production in-house, but when scope demands a specialty production company, we typically partner with Barbershop Films. We've worked with Barbershop many times on projects for SaskTel and the Saskatchewan Apprenticeship Trade Certification Commission, and have a uniquely collaborative, candid, red-tape-free relationship—to the extent that we almost work as an extension of each other's teams. 
A7
Provide a list of three or four Clients along with titles, phone numbers, and emails of individuals whom we might contact as references.
Joann Korpan-Smith
Marketing Manager – Advertising
SaskTel
joann.korpansmith@sasktel.com
306-777-5780
2121 Saskatchewan Drive
Regina, SK, S4P 3Y2
Mindy Woloschuk
Manager – Business Communications
SaskEnergy
mwoloschuk@saskenergy.com
306-539-9459
900–1777 Victoria Avenue
Regina, SK, S4P 4K5
Shannon Lindholm
Executive Director – Communications and Customer Service
Ministry of Highways
shannon.lindholm@gov.sk.ca
306-536-4272
1200–1855 Victoria Avenue
Regina, SK, S4P 3T2